Katedros personalas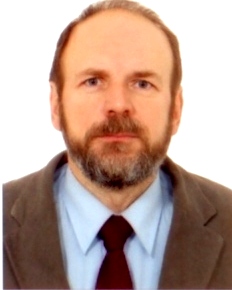 Doc. Dr. Arūnas Maršalka



El. paštas: arunas.marsalka@ff.vu.lt
Tel: 370 5 2366089



Gimė 1958 m. Vilniaus mieste.

Šeima:
Vedęs, su žmona Irena augina tris vaikus – Gabiją, Mykolą ir Bernardą - visi moksleiviai.

Kvalifikacija:
1976 m. baigė Vilniaus 7-ają vidurinę mokyklą (dabar Vilniaus Žirmūnų gimnazija).
1981 m. baigė Vilniaus Universiteto Fizikos fakultetą.
1993 m. Vilniaus universitete apgynė gamtos mokslų daktaro disertaciją "Dinamikos, sąveikos ir fazinių virsmų ilgagrandžių molekulių junginiuose tyrimai BMR spektroskopijos metodu".

Darbinė veikla:
Nuo 1981 m. dirba Vilniaus universiteto Fizikos fakulteto Bendrosios fizikos ir spektroskopijos katedroje vyr. inžinieriumi, mokslo darbuotoju, lektoriumi, docentu (nuo 2008 m.).

Mokslinės ir pedagoginė veikla.
Dėstomi dalykai:
Terapinių prietaisų fizika, Aplinkos fizika, Atmosferos fizika, Informacinės technologijos, Aplinkos sauga ir valdymas, Taikomoji nejonizuojančios spinduliuotės fizika, Kompiuterinė grafika (praktiniai užsiėmimai).

Mokslinės veiklos kryptys:
Molelulinė spektrometrija, faziniai virsmai ir kriziniai reiškiniai, molekulių ir jonų sąveikos aplinkos fizika (atmosfera).

Svarbiausių mokslo darbų ir mokymo metodinių priemonių sąrašas:
B Milutienė E., Augulienė V, Maršalka A. Solar radiation monitoring in Vilnius, World Solar Congress 2003, "Solar energy for a sustainable future". 2003 Goteburg.

A. Marsalka, E. Milutienė and V. Augulienė Evaluation of solar resources in Lithuania. Environmental and chemical physics, 2004, vol. 26, no. 1, p. 22-26.

Ovadnevaite J., Kvietkus K., Marsalka A. PM10 concentration in Vilnius city during summer fires. Journal of Aerosol Science, 2, (2004), 1023-1024.

J.Ovadnevaitė, K. Kvietkus, A. Maršalka 2002 summer fires in Lithuania: Impact on the Vilnius city air quality and the inhabitants health. The Science of Total Environment , vol. 356, 2006, p. 11-21.

K.Aidas, A. Maršalka, V. Balevičius, L. Kimtys, V. Urba and V. Balevičius Magnetic shielding properties of water in various molecular and molecular-ionic structures. Lithuanian Journal of Physics, 2006, vol. 46, no. 2, p. 169-175.

Aidas Kęstutis, Maršalka Arūnas, Gdaniec Zofia, Balevičius Vytautas A 13C NMR and density functional theory study of critical behaviour of binary water / 2,6-lutidine solution. Lithuanian Journal of Physics. ISSN 1648-8504. 2007, vol. 47, no. 4, p. 443-449.

E. Zavadskas , A. Kaklauskas, E. Maciunas, P. Vainiunas and A. Marsalka Real Estate's Market Value and a Pollution and Health Effects Analysis Decision Support System. Lecture Notes in Computer Science, 2007, ISSN 0302-9743. Vol. 4674 (2007). p. 191-200.

L. Kimtys, D. W. Aksnes, V. Balevicius and A. Marsalka Crystallization of carboxylic acids as studied by NMR Spectrometry. Phase Transitions, 2007, ISSN 1029-0338, vol. 81, No. 4, p. 315-322.

L. Kimtys, D. Aksnes, V. Balevičius, A. Maršalka. Crystallization of carboxylic acids as studied by NMR Spectrometry // Phase transitions. 2008, vol. 81, no. 4, p. 315-322. (ISI Web of Science DB)

E. Milutienė, A. Maršalka, J. K. Staniškis, V. Augulienė. Investigation of energy saving possibilities in buildings. Enginering Reserch, Engineering and Management, 2010,No. 1(51), P. 40-46.